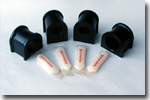 Daizen Sport Tuning Synthetic Chassis Grease



Service Items for Daizen Sport Tuning Products
Daizen Sport Tuning synthetic chassis grease is the ONLY grease you should use to service your Lexus sway bar or control arm bushings.

This is the same grease that comes in our bushing and sway bar kits. This grease should NOT be used or mixed with any other grease or lubricants, as it will adversely affect its performance and longevity. Thoroughly clean all surfaces before applying. Use approximately 1 tube per bushing.

This waterproof, semi-permanent grease will last months on end (if not years) without wearing away or liquefying due to heat or friction.

5ml tubes - available in 4-tube or 12-tube service packs.