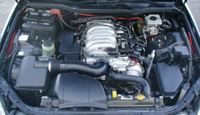 Lexus GS400 Grounding Upgrade Kit

Grounding Upgrade Kits for Lexus
Daizen Sport Tuning high performance grounding upgrade kits stabilize voltage throughout critical engine and ECU harnesses.

Decreased ground resistance provides for better grounding paths for electrical components, resulting in smoother and more stable operation. Provides increased operating efficiency of air conditioning, headlights and other higher amperage components.

Especially effective on older vehicles or higher mileage vehicles, as the factory original OEM ground connections can deteriorate over time.

Available in red, black and silver. All connections are gold plated, fully soldered and insulated with highest quality shrink tubing. All necessary additional hardware is provided where required.

These are custom-designed, model-specific, direct-fit kits - NOT universal or semi-universal kits like all others on the market.